My favorite book ever isn't a book. It's a Kindle.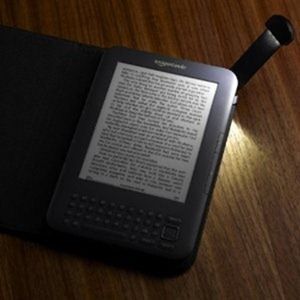 I came to this party late and unwilling, like I do to most social occasions. Except I'm usually awkwardly early to social occasions. I received my Kindle 3 Wi-Fi as a Christmas gift (thanks, Mom) and knocked out my first book in just a few days.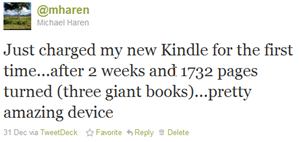 After two weeks, I'd read three books. In the weeks since, I've read three more:
The Confession by John Grisham
The Girl with the Dragon Tattoo by Stieg Larrsson
The Girl Who Played with Fire by Stieg Larrsson
The Girl Who Kicked the Hornets' Nest by Stieg Larrsson
The Help by Kathryn Stockett
The Hunger Games by Suzanne Collins
I voraciously tore through and enjoyed each one.
Six books is more than I've read in as many years. Why the sudden change? Initially it was the down-time of the holidays; we had a lot of help with our little ones so I could indulge in such things. Some of it is that this thing is so lightweight that I can, with my cover's built in book-light, read in bed regularly. A good chunk is that I can read it on the elliptical machine at the gym by cranking up the font size a notch or two. And finally, it's just so damn easy to use in a way that even paper isn't that I can't help but tap turn-turn-turn.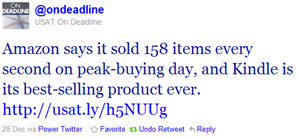 This all took me by surprise. Big time. If you're on the fence w.r.t. taking the plunge on an e-reader, I suggest diving in. You'll be in good company.